(I totally meant to have this posted a few weeks ago, long before returning to school, and certainly still in August, as the opening line suggests. However, between birthdays, a going away get together, play dates, a wedding and a root canal, it just didn't happen.)
It's
August
September. Which means it's time to start preparing to return to school (I realize
some of you
all of us are already back in the swing of things). Just for fun, I thought I would gather together a collection of some of my favorite things. All of the items below are things that I use in my classroom, or at home.
(At this point I will note, I have not been compensated in any way for this post.)
1. Time Timer
I love, love, love this timer. I was first introduced to it through
The Art of Education
when they were hosting a giveaway about a year ago. I didn't win the giveaway, but I loved the idea of this timer so much that I purchased one for my classroom. This is probably one of the best classroom purchases I've ever made. I set it at the start of class (and if I don't remember, my students are eager to remind me), and it allows students to monitor class time on their own, without having to ask how much time they have left.
This timer is a great classroom management tool. I often overhear students telling each other, "Shhh. You're wasting our art time. Look at the red!" It also helps with clean-up, because the students know that when the red gets to "5" (or "10", depending on the materials we're using), it's time to stop working and clean-up. And bonus, I no longer have to watch the clock and remember what time the students came in, and what time they're leaving (this is especially good if you work at multiple schools with different start times.)
A couple of years ago, when I was out on maternity leave, my fabulous sub read this book at the start of the school year. I hadn't previously heard of it, but I was so grateful to her for having read it to my students. For the rest of the year, anytime students made a "mistake," their peers were quick to remind them that they could turn it into a beautiful oops. Unfortunately, when my sub left, she took the book with her, but I was sure to pick up my own copy for my classroom.
For more art room books must-haves, check out
this list
from The Art of Education.
Remember these? I picked a couple Etch A Sketches up years ago at TJMaxx for my classroom (one of them has since been stolen). I was shocked by what a hit these were. Students who aren't normally into art love drawing on these. There is always a fight over the one Etch A Sketch in my classroom, which is why I used some PTO funds to purchase some more this year. If you can, you should definitely get a couple of these. They make great "I'm finished!" activities. You'll be amazed by what the students can produce. I once had an elementary student who was capable of very accurately replicating buildings in the community on an Etch A Sketch. Without the aid of a photo. In under 20 minutes. Needless to say, his peers and I were blown away. In fact, his mom informed me that an Etch A Sketch was the only thing he had asked for for Christmas. 
Want to see some amazing Etch A Sketch artwork? Check out this artist,
Bryan Etch
(I know this artist, and I can tell you from personal experience that he throws some fab parties).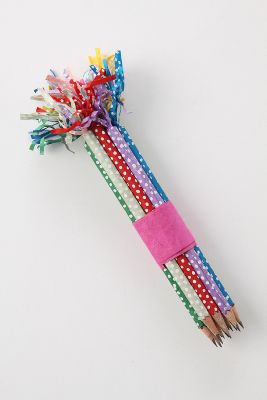 Not to be confused with teacher pens. I know some of you don't mind sharing pencils with the students, and you probably think it's just easier that way. Good for you. I need my own pencils (hello, germs!), and I need them to be easily identifiable as mine. I picked up this set from
Anthropologie
, but you can find funky pencils anywhere. Or make your own. I half expected my special pencils to go walking, but I was pleasantly surprised when they never did. In fact, I only went through two of these last year! How awesome is that? Anytime I misplaced my pencil, or left it on a table, students were very quick to return it to me. I make a big deal about never starting class without my pencil, so my students are always helping me keep track of it.
I don't actually use these in my classroom, but I'm thinking about it. We have these at home, and they are great for my two-year old. She is
intense
when it comes to crayons with paper wrappers. She will sit there and peel off every little bit of paper from her crayons. And if she can't get the paper off, guess who gets stuck doing it? I picked up a pack of Twistables for a long car trip, and I haven't looked back. No more peeling paper!
So there you have it. A few of my favorite classroom items. What are your must-haves in your classroom? Are there any products that you just can't live without?